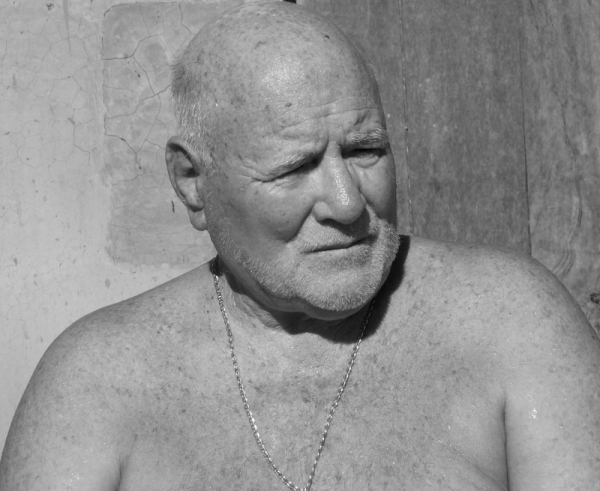 An Early Christmas Gift (Sept 24,07)

Today was one of the most emotional and incredible days of my life. I had the honor and priveledge of praying with my dad as he accepted Jesus Christ into his heart. He is 76 years old soon to be 77 this coming October 17th. My mother and I had been praying for the past 23 years for his life to be changed and this afternoon at 2:53pm - in the parking lot of a Mega Depot - Fred Clark son of Tramel Clark became Fred Clark son of God.

There are no words, no songs, not even an intelligent descriptive thought that can quite capture this moment in eternity for me. It is beyond joyous - it is truly miraculous.

This man who served in two wars, was the strict disciplinarian in my home and that hardness made me angry and jaded for many years. I struggled in our relationship which was almost non-existent for most of my young adult life. I promised God that I would return to Panama to learn to be the daughter he never had if God in turn would help him become the Father I always wanted him to be.

To see him bend his knee today - to watch him cry as he asked for forgiveness and then smile after we had finished the prayer has truly changed me. We spoke for hours today about being a true Christian - a sincere follower of Christ and he had so many questions - and in his eyes I could tell... this was for real.

As I sit here typing this testimony for all to read; I am once again reminded, NOTHING is impossible and that God is truly able to do what we believe could never be done. So I encourage you all this day. For those of you who have never held the hand of one you loved and prayed them into the kingdom, for those who have been standing in faith and intercession for family members, for spouses and children, for those who daily are sowing seeds into the lives of friends and co-workers.....please don't stop.

God is faithful - He will hasten to His word to perform it - it can and WILL happen if you keep your heart set and you remain determined to not let go. Don't give up on them - don't stop praying, don't stop sharing, don't stop loving - this is the way it comes to pass. Through your love, your prayers, your testimony and your reaching out - they will be drawn to Him.

I know it takes time. I know it can be frustrating. I promise you it will test every fiber of your being. But I can also assure you - beyond a shadow of any doubt....

IT IS ALWAYS WORTH IT.

Rejoice with me this evening my friends - Stomp and shout along with the angels in heaven - for my dad has finally come home.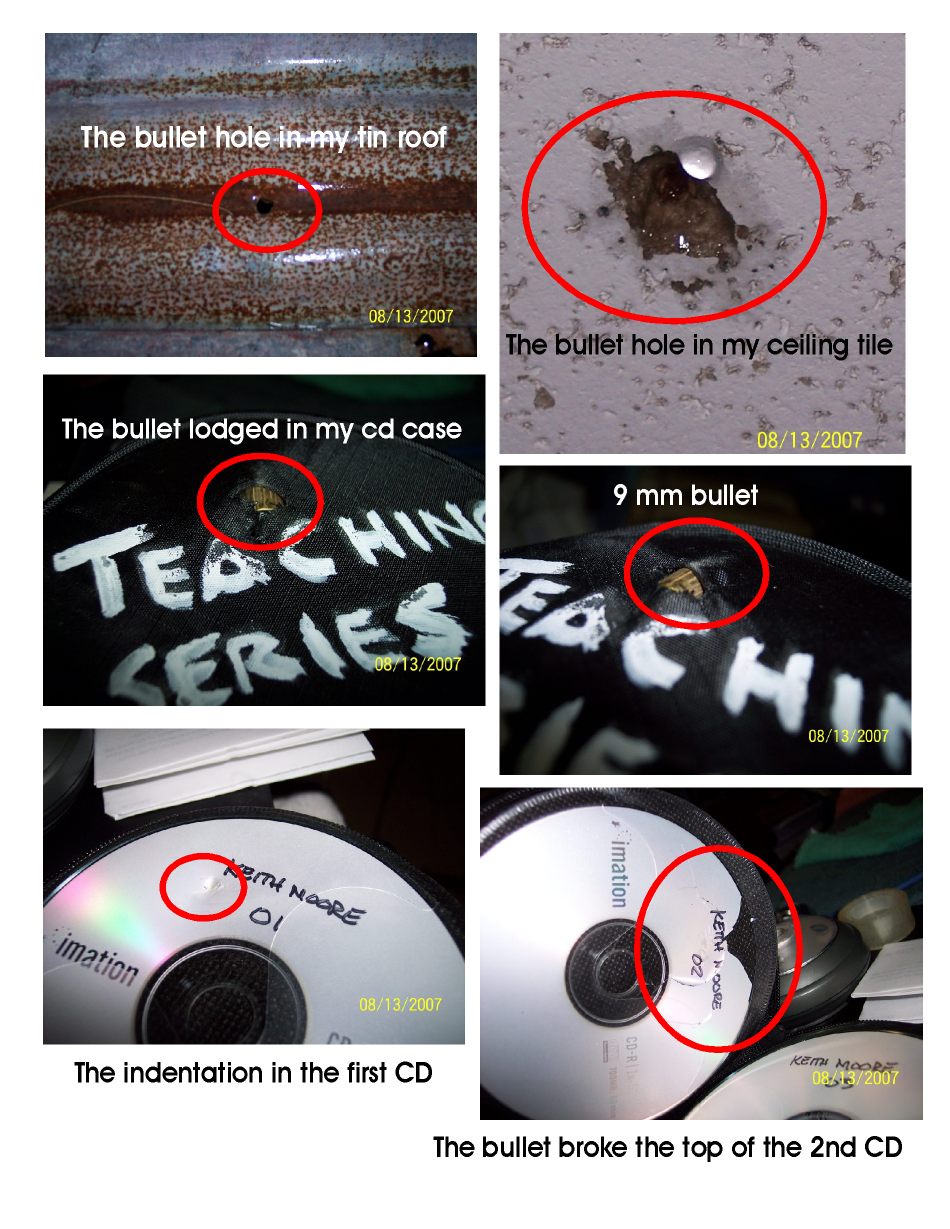 The Bullet (Aug 13, 07)

I just wanted to give everyone a testimony about the miraculous way Father protects and covers me everyday of my life.

A few nights ago around 10:30pm a 9mm round came through the roof of my recording studio - 2 ft from my head and lodged itself in one of my CD cases. Police say it was a stray bullet from nearby poachers they are trying to apprehend. I thought the t.v. antenna had fallen over and didn't realize until the next day when it rained that an actual bullet had gone through the roof - then through the ceiling tile allowing a shower of water onto my piano. I was cleaning up the water when I found the CD case on the floor behind a speaker.

All I can say is - God is faithful to protect those whom serve Him. If you notice the CD case that the bullet was lodged in - you'll see the cover details the content within. These CDs teaching CDs from my favorite RHEMA teachers - Keith Moore and Patsy Cameneti that I download from the internet from their respective websites.

The bible says in Hebrews 4:12 For the word of God is living and active. Sharper than any double-edged sword, it penetrates even to dividing soul and spirit, joints and marrow; it judges the thoughts and attitudes of the heart. The bible also says in 2nd Corinthians 10:4 The weapons we fight with are not the weapons of the world. On the contrary, they have divine power to demolish strongholds.

I can't tell you, my friends, how many times the words and teachings in this book and the servants who preach and teach it have changed my life. Two feet to the left and someone else may have been writing this. I guess you can say - God's sword did battle with the weapons of the world and once again He has triumphed. All praise and glory be to our Jehova God and His son Jesus Christ. Please continue to pray that Father's will be done in my life and the lives of those in the Clark family for my angels are working overtime.


I had a chance to present the Christian Medical Social Foundation with a computer for their administrative office today. Special thanks to Chris Wilkins who first sowed this CPU into Saltmine Studio's ministry (3) years ago and to the Clark family who donated the monitor, scanner, speakers keyboard and mouse. Lord willing, it will continue to work for the Kingdom of God, under the care of the Coopers.

Peanut, keep the angels in line ok?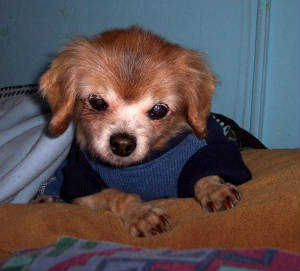 I will be home soon, my little squishy...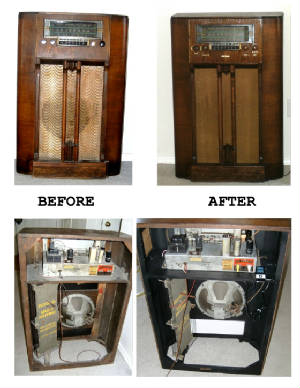 Vacation - Recharging - Restoring (Feb 2009)
It has been a great time for me - these past few months. I have been learning so many new things lately; great and tasty recipies, how to groom big slobbery dogs, how to breathe deep and laugh hard, and the delicate work that is ... antique restoration. My first attempt - a 1940 RCA Victor Radio Console. My best friend Kim and I have been working on this great radio she picked up from a lady on Craig's list for $50.
It feels so good to be able to bring something so old back to life. As I sautered wires and cleaned up old tubes on the amplifier - it dawned on me that someone almost 68 years ago was doing the very same thing. The lady who sold it to us said that it had belonged to her Grandmother, but that she just didn't have any more room in her garage to keep it. Strange how this was so easily let go. I think of my nana and how I am so glad she gave me her old sowing machine. I have purposed in my heart I am going to learn how to sew, just so I can use it. I am thinking that when I step on the pedal and make a good stich I will hear nana say, "very good Pamelita," and I will smile remembering her. (she's not gone yet, spunky lil thing that she is, but I now have something that was hers and that she loved)
I downloaded some old 1940's radio programs and a bought a used mp3 player off EBAY and plugged them into the amplifier's auxiliary inputs. I've spent the last week sitting on the floor next to the mono speaker anticipating "The Shadow's" next move. I also have to admit that even thought I own a digital recording studio, Billie Holiday sounds better on this one speakered console than on my $800 studio monitors.
I am reminded once again that newer isn't necessarily better and that there are some things that when built well will last a lifetime. To those who took such pride in building this things oh so long ago - I tip my hat to you. Next up - an upright piano purchased from another lady who just needed more room. *sigh* One girl's trash is another girl's treasure....*S*
I encourage you all to write gramma/grandpa a letter. Ask them if there is anything special to them that they would like to pass on. Make an heirloom, something that has history, something that was important to them growing up. It doesn't have to be expensive, just special. In fact I think Gramma would say that life should be something along those lines....don't you?
blessings to you all
Pamela