Brant, Danny and I toured 8 states, holding 20 concerts in August of 2004 to raise funds for the Templo JesuCristo's Children's Soup Kitchen. On the "Circus Life Tour" we were able to raise about $1,100 to purchase the building materials needed for the Children's Soup Kitchen. Donations of a refridgerator/freezer, tables, pots and pans and cooking utensils enabled the church to officially open the doors of the soup kitchen. We would like to thank everyone for their kindness and generosity. Specifically the following Ministries that gave into this building project.

1. Harvest Family Church
2. Arlington United Methodist Church in Bloomington, Indiana
3. First United Methodist Church in Bloomington, Indiana
4. St. Mark's Methodist Church in Bloomington, Indiana
5. Centennial Bible Church in Westfield, Indiana
6. The Outer Room Coffee House in Portland, Maine
7. Harbour Coffee Company in Hershey, PA
8. Grace Ministries in Circleville, Ohio
9. Keith Mohr - Indieheaven, Franklin Tn.
10. Camp Wilmot, Concord NH

also we would like to thank the following people for their personal contributions...

1. Elizabeth Tajiani, Tampa, Florida
2. The Clark family, Panama
3. Ivan Javier Chong, Panama
4. Dr. Jon Hart and family, Bloomington Indiana
5. Andrew and Carla Thomas, Portland Maine
6. GW LeMaster and family & Chris, Circleville, Ohio
7. Jerimae Yoder and family, Indianapolis, Indiana
8. Jennifer Green and family, Montgomery, Alabama

SOULFEST was an amazing opportunity to meet some of the most successful Contemporary Christians Bands in music today, but I believe what most impacted Dan and I were the thousands of Christians in attendance who were there to worship the Lord. We made many new friends and played with extremely gifted musicians. Tim, Ty and Pez from the band UNSED joined Brant, Danny and I for four different performances on two different stages over 3 days. The Mercy Street Cafe gave us an intimate setting where we could be closer to the audience - intimate enough that Brant's brother Todd proposed to his girlfriend. Made for an amazing couple of nights.

The road is never an easy place to be - all the driving and living out of a suitcase can wear on your soul, however, the opportunity to see so many of our friends and fans and share with them the great things God is doing is worth every minute of cramped legs and crinked necks.

thank you for supporting us, we love you all....
Centenial Bible Church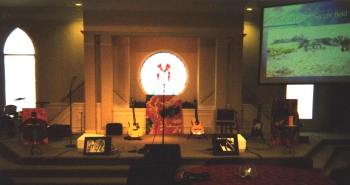 Absolutely Gorgeous Church